Scoreboard Delivered!
October 28, 2016
To our many dedicated friends of Las Lomas Boosters:
Success! After years of funding-raising, planning, approvals, purchasing, and installation, our Las Lomas community is now the proud owner of a fabulous, ultra-hi-tech scoreboard at George DeKlotz Stadium.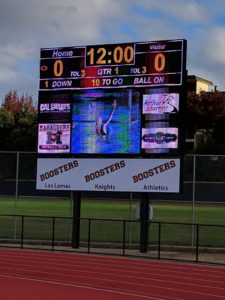 Tonight we celebrated senior night for our Class of 2017 varsity football team. We were proud to be able to recognize our Senior players on the big-board, and to acknowledge the generosity of our many sponsors who gave so generously with donations at previous Boosters events.
Las Lomas is now ready to reap the many rewards of our new video capability. Our Football, Soccer, Lacrosse, and Track & Field teams will have a customized scorekeeper experience. We now have unlimited opportunities to merge pictures, videos, interviews, streaming action, and replay into our game experience. Graduation, Homecoming, and other stadium events can move into a next-generation unifying experience. Local merchants now have advertising opportunities for thousands of consumers across 75 annual events. The possibilities are limitless; all we need now are good ideas and some dedicated volunteers to bring them all together.
Our scoreboard project was truly a community effort.  So many people have given so much of their time and resources to deliver this solution. A special few people deserve particular recognition:
Paul Gendron, Pat Fuller, and Tim Kruger: visionaries who molded the "what if" idea into a tangible design.
Michele Hodge and Catherine Gardner: organizers of our Boosters auctions, the foundation for our scoreboard fundraising.
Sarah Howell: meticulous Booster Board treasurer who created and managed the complexities of budgets and cash flow.
Matt Campbell and Amanda Renno: Las Lomas mentors to our process of creating a valuable asset that will benefit so many Las Lomas activities in the year to come.
Dave Humphrey: pathfinder in his tenacious guidance through the complexities of the district and state construction approval processes.
Steve Rubin: logistics expert and expediter who provided transport and delivery of our scoreboard from China to Walnut Creek.
Ron Bossert: construction expert extraordinaire who stirred the pot of many parts and created a complete solution.
Las Lomas Class of 2014: co-creators of the scoreboard legacy with their generous donation.
Our many local businesses: engaged members of our community who consistently donate their products and services in support of our fundraising activities.
Our many Booster board members, committee members, and auction staff: selfless volunteers who have given their time over the years to assist with fundraising, or execute through a myriad of details for the most complex project in Booster's history.
Our many parents and alumni of our Las Lomas community: kindhearted patrons whose generous donations make our stadium scoreboard and many other projects happen.
On behalf of the Las Lomas Boosters, I am proud to deliver this iconic scoreboard to the Las Lomas community for your years of enjoyment and memories.
Sincerely,
Dave McCandless, President
Las Lomas Boosters