Scoreboard Advertising now Available
Advertising space is available for the 2017-2018 year – we have multiple choices for our advertising community. Check out the wonderful businesses who have already agreed to advertise with us and support our student athletes here.
Download a Overview of our advertising choices here.
Download the application Agreement here.  Complete either online as editable PDF document, or complete in writing. Submit completed document with payment to:
Las Lomas Booster Club, Inc.
C/o Las Lomas High School
1460 South Main Street
Walnut Creek, CA 94596
Download an Example of the completed application agreement here.
Scoreboard Delivered October 2016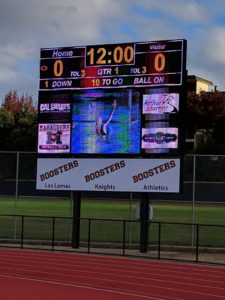 After years of funding-raising, planning, approvals, purchasing, and installation, our Las Lomas community is now the proud owner of a fabulous, ultra-hi-tech scoreboard at George DeKlotz Stadium.  See our Letter of Thanks and acknowledgements.